Senator Salling Introduces Retired Veteran's Tax Cut Bill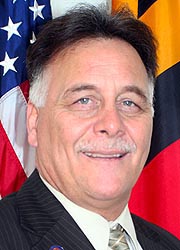 Senator Johnny Ray Salling of Baltimore County (District 6) has introduced Senate Bill 003 to expand the existing military retirement income tax subtraction modification. In introducing this legislation, Senator Salling said, "I'm looking into the long-term future of Maryland as a home for our service men and women when they choose to retire. With so many military installations located within our state and the recent completion of Round 4 of BRAC, thousands of news job are being created, with the vast majority of those employed moving to Maryland."
Currently, many military retirees leave Maryland when they retire because 26 other states are 100% tax-free. This bill would add Maryland to the list of 26 other states that recognize that veterans 100% tax-free military retirement pay would be an incentive for military retirees to stay in Maryland or move to Maryland. 
Co-sponsored by both Democrats and Republicans, this is a common sense bill that would show our support for the many veterans we have in the state of Maryland. 
We thank Senator Salling for introducing this bill! 
Spread the Word!
Sign in
if you'd like new recruits to be credited to you.